"10. Tubbataha Reef: This is the undisputed king spot for diving, comparable to Malaysia's Sipadan, but enormous. It's an atoll way off in the Sulu sea and everyone without fail that I know that has been there has had nothing but ridiculous things to say that border on impossible. The problem however is that it is a bitch to get to. "
– From Aidan's 10 things to dive in the Philippines sent to Delos Facebook 9/9/13
So this is where the strange road that ran from internet fanboy to local tour guide led to, the main event, a cross-country passage on Delos, and to Tubbataha no less.
Truthfully what scared me more than the reports of more sharks than you could shake a stick at, and the constant reminder from everyone we asked that the season was over, meaning that we could expect some nasty weather. Now if you're wondering 'does bad weather affect internet?' then you should know, it depends on where you are. Being out at sea for me brought the revelation that we would be out of telco coverage… Really out. No internet, no emails, no cell phones. Well, this is the cruising life, and though I did what I could at work to prepare, raising anchor still saw me frantically banging away at my technology to squeeze off last emails, calls and downloads.
It wasn't long before we had cruised out of Puerto Princessa, and to the point of zero bars. The first few hours were fine enough, but once the sun went down, things started to get a little bumpy and we were all curious how we would fare.
"I've never quite seen water like this before" says Brian as we begin to bob around, swells pounding from varying directions, but no wind? Strange tides indeed. Distant thunder loomed but it was my turn for some sleep. Couple hours later I get tossed around in the bunk and wake up to howling wind, I figure I'd go check on deck to see what's happening and I caught enough light to see a salty looking sailor on deck.
Karin in her foul weather jacket had reefed the sails by herself as the gusts began to kick up to 40 knots and looked totally unperturbed, this sailor's definitely got some solid sea miles behind her. "Anything I can do to help?" I ask, still a little foggy, and wondering if we should be concerned with the worsening conditions. She waves me away with her tea and I nodded back to sleep.
"I think we're about 7 miles out." Brian comes out looking a little concerned, I see it's 8am and we should be there already. Last year the USS Guardian a US Navy Minesweeper was grounded at Tubbataha, the latest major victim in a string of boats that somehow missed the 375 sq mile atoll, due to the fact that the updated charts are reputed to be offset, by as much as… 7 miles.
Luckily we were running behind, and Brian brought up an early a map from the 1920s that had us smack where we were supposed to be. We radioed in to the reef rangers and they suggested we tie on to "Black Rock" a mooring not far off from where we were, and (supposedly) sheltered from the swells. We found it without too much trouble, and once we were tied up and settled I'd figured I'd jump in.
Gin clear water, with visibility further than I ever thought possible let me see straight down to the bottom, where a school of jacks, a dozen groupers, and four Sharks were lounging right under our keel. This was going to be good.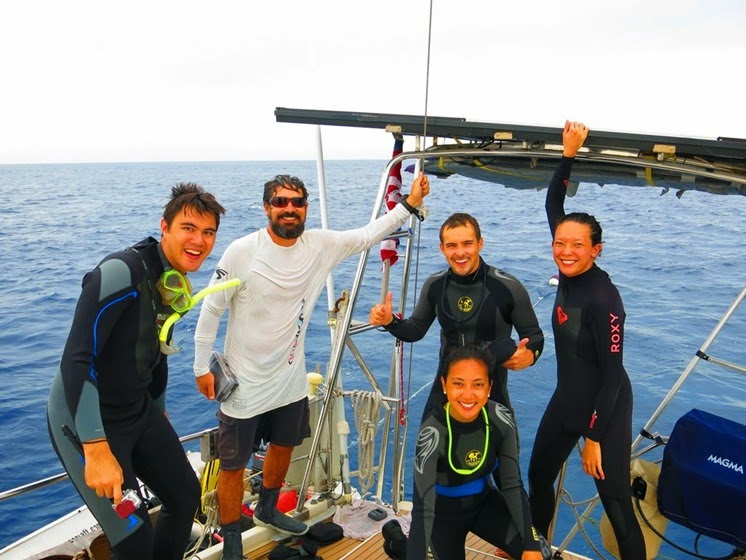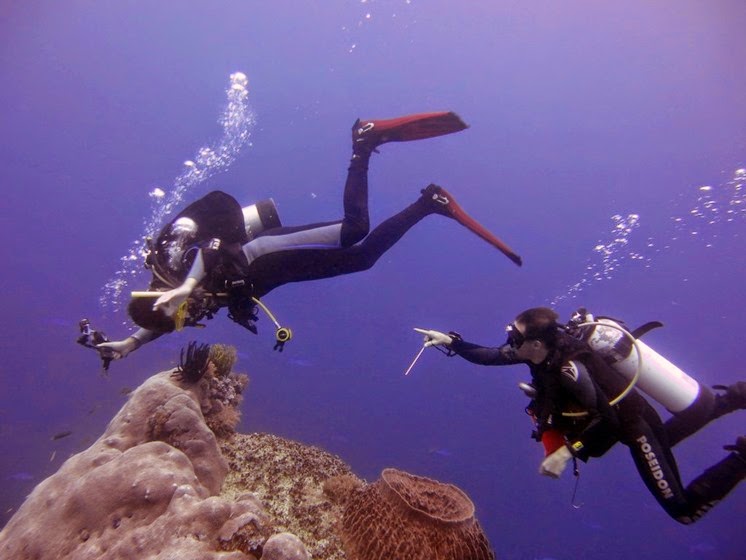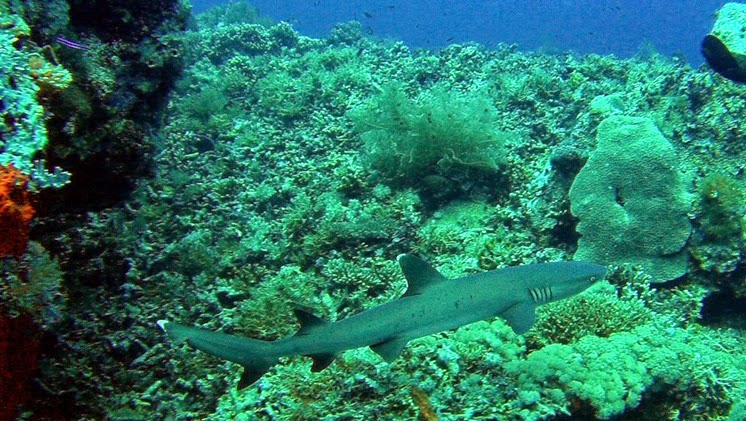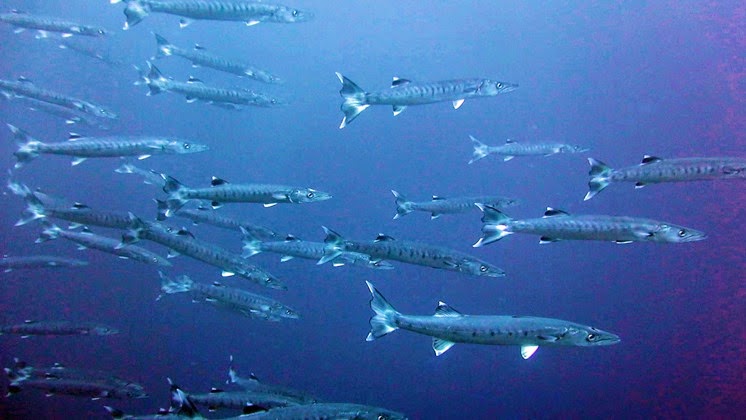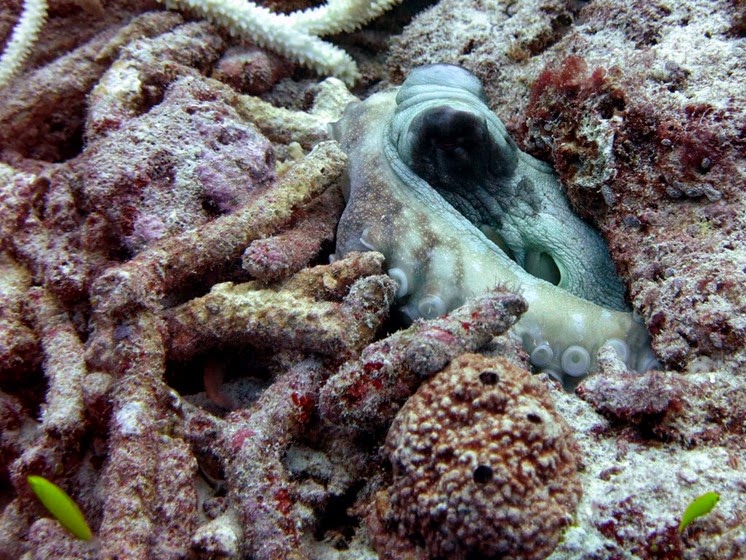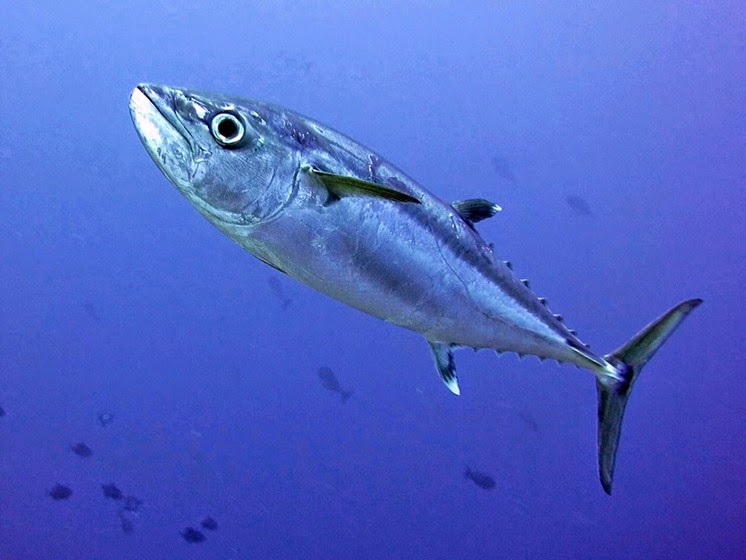 Four dives a day was intense, and the ability to fill tanks and jump in right off Delos was a dream. Everyone tried their hand with at least one meal and suffice it to say we ate very well! The diving was phenomenal, but I will leave that for the videos to get across, the special moment for me was to meet the rangers on the station.
A joint force of Coast Guard and Navy personnel, the Tubbataha rangers were a friendly bunch that definitely made the best of what they had, which wasn't much, but WWF funding has ensured that they will be building a state of the art station next year, of which they had a pin-up on the wall. Many of them had been stationed at least once in the Spratlys as well, where under funded and outgunned they would try to keep a foothold in the disputed seas. When asked what the hardest part was, it was agreed that a lack of fresh fruits and vegetables were what was missed most, though we left a care package of candies, libations, and varied reading material from the mainland, which seemed to go over very well.
We broke open the first bottle together tagay style (a filipino tradition of passing one glass around the circle to make sure nobody falls behind), and it didn't take long before we were challenged to a game of Volleyball! Turns out the ranger station is constructed on a sandbar just big enough for a regulation court, though the slopes in every direction made it an effort to chase the ball down once it hit the ground, one more motivator to keep it in the air! Needless to say with little else to do on the island, these guys were good! Though they did their best not to embarrass us, it was only when we mixed up the teams that the games started to heat up!
Sun was coming down on the reef and we headed back to the Delos. It was definitely a little hard to leave, but we got gear locked up, mooring lines off, and away we went, settling into the 3 day journey to Malaysia. Night time was my favourite. When everything is quiet and you're alone on watch. The gentle lap of the sea, and being able to look up and see stars the way that they're supposed to look, far away from all the electric lights. I realized that I was probably back in telco coverage, but decided not to turn on my phone.
It's interesting the things that you see out on the water–other boats for one, some of which look so exotic that you want to buy them (from the likes of https://www.zeboats.com/used-boats/14-foot-jon-boat-for-sale). However, that is not just the reason that we kept an eye out for other boats. The main reason is that at night there were plenty of fishing operations going on, sometimes throwing off so much light onto the horizon that I was confusing them for cities–these bringing fleets would attract anything up to the surface than with nets the size of a few city blocks drag them all up to the surface, at least they were easy to spot.
During the day there were tankers and cargo ships to dodge, and every once in a while we would get rewarded with dolphins on the bow, or the occasional flying fish that would end up landing on deck (though our trolling fishing line remained untouched!). The third day, still quite a ways away from Malaysia, a small bird crash landed on deck. I'm not sure what he was doing so far from shore (he certainly didn't seem to have the wings or size of a long distance flier) but he seemed to be thankful to have somewhere to rest for a while. I held out my finger out of curiosity, and he hopped right on and ended up on my shoulder where he stayed for quite some time.
The first spot of land though and he was off, and we were officially in Malaysia.
We had great weather, though the lack of wind and prevailing direction meant we motored a lot of the way. This meant less sailing, but it did put us in a little early. Had we had a professional weather station with us during the trip, we could have done a little more planning for the trip. But again, while cruising, how would we install it? Therefore, consulting the charts, the decision was made to spend the extra day finding a secluded beach and claiming it for ourselves. Not a bad life!
We found an island about 30 miles from Kudat, and it had all the prerequisites, sheltered, white sand, nice view, and facing sunset. This must be the place.
We dropped anchor and spotted two boats on the beach, Brian decided we better head over and get the low down on the area. We got Maggie into the water and zoomed over. One of the fishermen it turns out speaks great English, and we are able to do a quick barter of cigarettes and beer (a universal currency it turns out) and get to ask the crucial question: "are there any crocodiles on the island?" I was a little surprised at the question as it never occurred to me to be that Crocodiles were something I should be wary about, though according to Brian a cruiser in Palawan not too long ago found that out the hard way. So there you are, one more thing to go bump in the night. In any case, we were assured that the crocodiles were limited to the island next door (oh goodie) and we decided to make camp.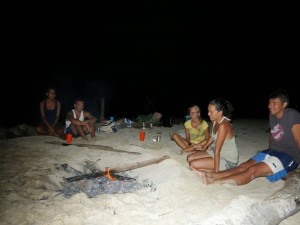 That was one night I think I will take with me. Everyone gathered around the campfire reflecting on all the strange coincidences that led us there. See I look at cruising through a tinted lens. Spending a lot of time growing up around Puerto Galera (where a lot of cruisers would put down anchor for a while) I got to know a lot of cruisers from a very young age, and was always fascinated by the lifestyle. It seemed a dream to always see new people and places, to pull anchor once you've stayed you're welcome and venture for new horizons, to exciting new places.
I guess it is all that, and to some even more, but I suppose there is a flip side there too. To never really be able to put down roots, to see the magic in the world, and bear witness to incredible stories, but never really be able to carry them with you; and time and time again make real connections, to good people, knowing that sooner or later, it's time to go.
Thank you for everything Delos, for sharing the magic with us, and I'm sure speaking with many others, who wish that they'd been in my top siders. We'll see you out there one day.